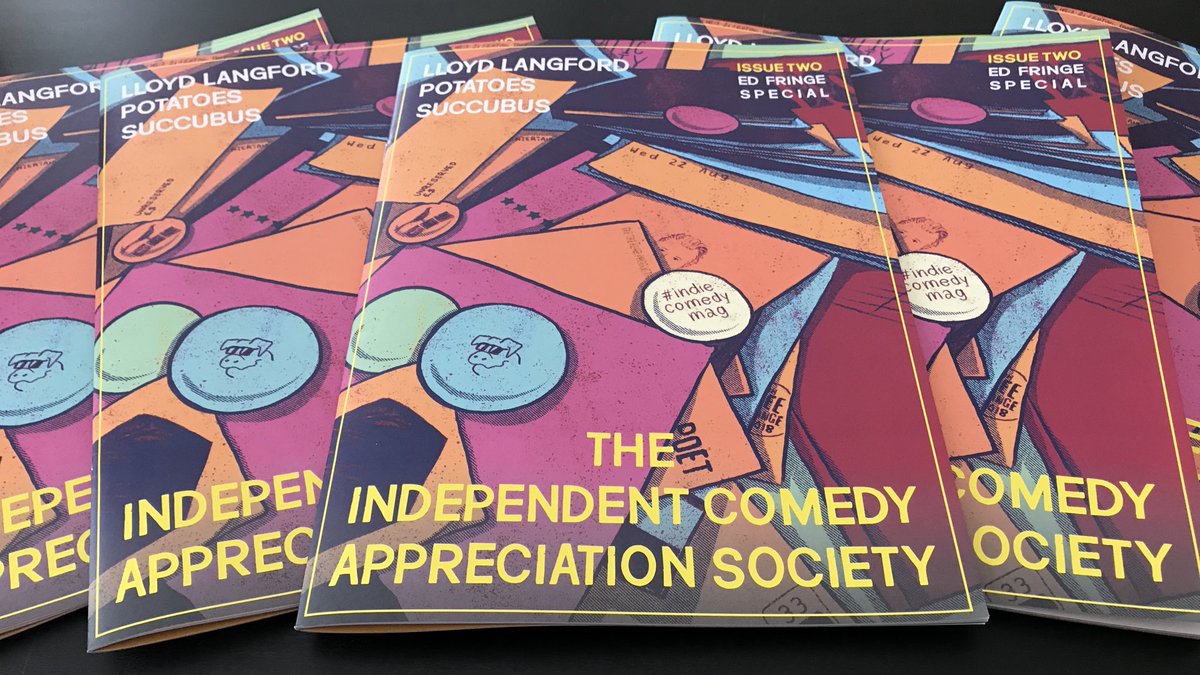 Available online and at:
Saddlegoose Comedy, Bath.
Komedia, Bath.
The Bill Murray, London.
The Independent Comedy Appreciation Society is a fully illustrated magazine about supporting and encouraging independent live comedy, with curated contributions from acts, venues, and comedy enthusiasts. If you're not sure what independent comedy is, here's how I'd describe it; interesting, original and thoughtful comedy where the end goal is not fame or money. Those things are nice, but the point is to create something that is unique to the performer rather than emulating the material or style of big telly comedians. This magazine exists not only to provide a platform for those kind of acts to have their work published, but also as a show of love and encouragement for all of the independent comedy community.

Email us at indiecomedy.mag@gmail.com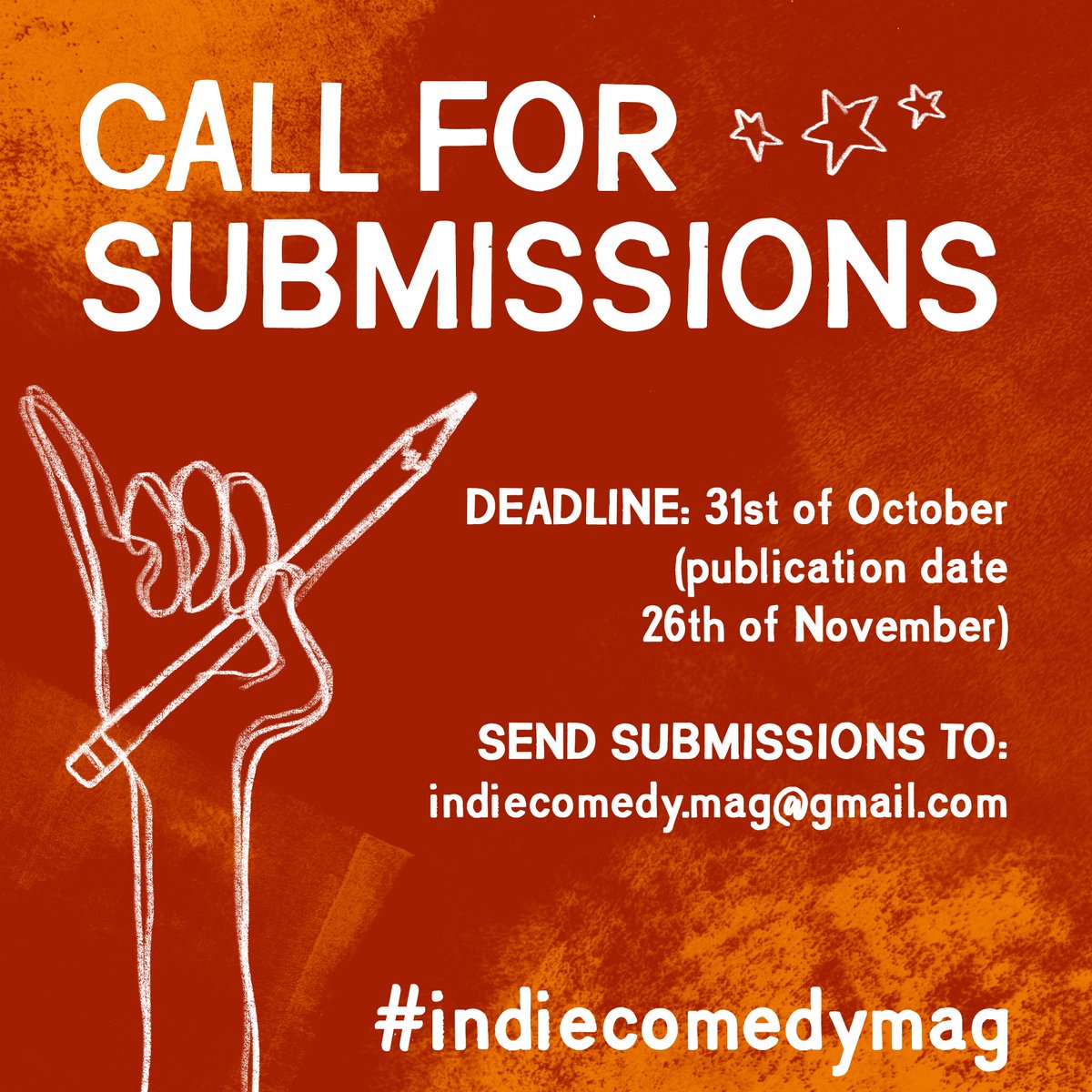 You can read our submission guidelines here!
We reckon you've got something to say. Issue three will be out in November, and we're already collecting submissions from comedians, gig runners, and comedy enthusiasts. It's a nice thing to put out into the world of comedy, and we really want you to be a part of it. For the next issue, as always we're interested in thoughtful writing about live comedy, your own opinions and points of view, and stories both factual and fictional - humorous or not. In this issue we received lots of comic submissions, and if you would like to send in your comics, illustrations or photographs, we would love to include those too. We won't do reviews, don't send us any of those or we'll be very cross and confiscate your badge. What we really want to see is writing in your own voice, with a strong idea no matter what it's about. Some things we're eager to include in the upcoming issue are:

Your reflections on the past year in comedy.
As above, but the coming year.

Christmas gig experiences, good or bad or weird.

Anything broadly festive, regardless of religion.
or ANYTHING ELSE! Just be interesting.

In the words of the brilliant Arts Emergency, who we featured in issue one, '
Sometimes if you want something to exist, you have to make it yourself
'. Go on, it'll be a laugh. We'll pay you a (very) small fee, and you'll get a copy of the mag you're in too.
Send all submissions and ideas to
indiecomedy.mag@gmail.com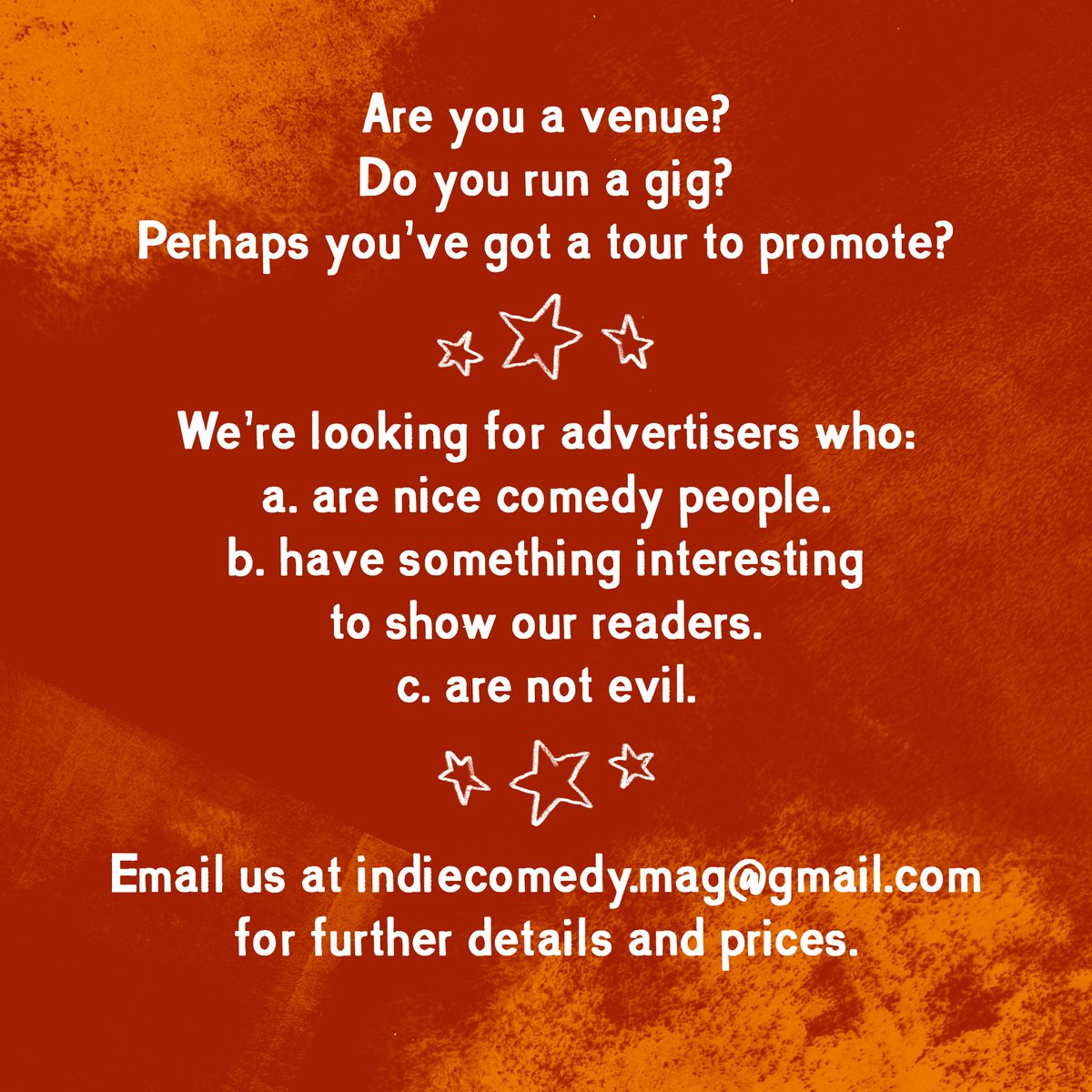 Find our advertising rate card HERE!
This project is very much a labour of love with all profit going straight back into making the magazine and in bits and pieces to it's contributors, and I really do appreciate those of you who are willing to spare your time and effort for little but love and goodwill from myself. The magazine wouldn't exist without the incredible work of...
Andy Barr, Conor Bailey, Joey Cannon, George Egg, Abby Forman, Jenny Grene, Col Howarth, Pete Jones, Lloyd Langford, Matt Macaulay, Ruby Martin, Amy Matthews, Lulu Popplewell, Katie Pritchard, Holly Raidl, Kat Sadler, Sam Schäfer, Christian Talbot, Chris Williams, & Odious Vex.